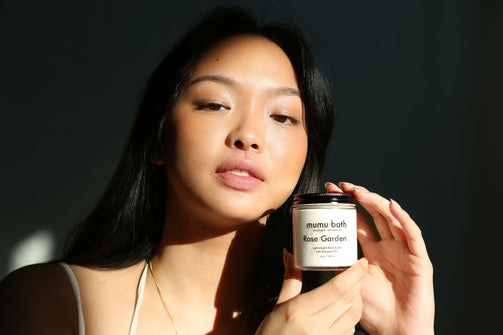 Taiwanese Roots. Natural Luxury.
Make self-care a part of your daily routine with Mumu Bath skincare. 
All Natural / 100% Vegan / Handmade / Paraben-Free / Sulfate-Free / Cruelty-Free / Ethically Sourced / Sustainable
Shop Mumu Bath
Featured product
Revive & Restore Hand Care Duo
Regular price

Sale price

$45.00
Our newest creation is now available online, and it's the perfect gift for yourself or a loved one. Say hello to the Revive & Restore Hand Wash and Hand Lotion Duo – a luxurious organic hand care experience that's more than just a routine, it's a delightful indulgence.
Hand Wash: Delight in the soothing aroma of Earth and Sea juniper and the refreshing scent of Taiwanese Oolong as you cleanse your hands with our organic liquid soap. Enriched with organic Sunflower and Moringa oils, it not only cleanses but also deeply hydrates, leaving your hands soft, refreshed, and ready to embrace the world.
Hand Lotion: Prepare for a journey of sheer luxury as you lavish your skin with our ultra-moisturizing lotion. Enriched with organic Shea Butter, Safflower Oil, Moringa Oil, and a blend of organic Vitamins A, C, and E, it's like a drink of water for your skin. Our botanical extract blend featuring organic Chamomile, Comfrey, Cucumber, and Aloe Vera is adored by our customers and renowned for its nourishing properties. Some say it's the finest hand and body lotion base money can buy!
But that's not all! We're now offering three alluring scents: Earth & Sea (Juniper Birch), the invigorating essence of Taiwanese Tea, and we just added our classic Rose Garden. It's an opportunity to elevate your daily skincare routine with the harmonious gifts of nature. 
It comes in a stylish zero-waste packaging with a stunning black and white design, suitable for any bathroom or kitchen.
All-Natural | 100% Vegan | Toxic-Free
8.3 oz / 250ml 
Proudly Made with Love and Care In The USA
Featured product
Osmanthus Flower Body Oil
Regular price

Sale price

$38.00
Our Osmanthus Flower Body Oil is featured in BuzzFeed!
Discover your most radiant skin! This moisturizing product was inspired by our founder's hometown in Taiwan. Osmanthus flowers only grow in Asia, and they are packed with antioxidants (catechins and flavonoids) that effectively remove toxins from your body, which improves your health inside and out.
Antioxidants promote overall skin health. Osmanthus flowers are known to enhance skin tone, brighten your natural skin color, and refresh your glow. 
Made with all-natural nourishing avocado 🥑 oil, coconut oil, and sweet almond oil, this light and clean oil delivers subtle osmanthus floral notes! It is gentle, light, and great for people with sensitive or problematic skin.
Spray a thin layer after your shower to lock in moisture for best results. It can also be used as a massage oil. 
Great for hands, body, and hair (split ends). 
Safe & Effective for All Skin Types
All-Natural | 100% Vegan | Organic
4 oz / 120 ml
Featured product
All-Natural Lip Balm
Regular price

Sale price

$13.00
Our All-Natural Lip Balm is featured in InStyle Magazine! 
Get the best of both worlds: soft and creamy lip balm in your favorite flavor with just a hint of shine and color. This all-natural lip balm just became a favorite staple in your skincare routine.
Mumu Bath lip balms are made with 100% natural and vegan ingredients. All of our long-lasting Mumu Bath all-natural vegan lip balms come in a 0.5 oz (15 g) tin. It is twice the size of a typical chapstick.
Ingredients: Organic Castor Oil, Organic Cocoa butter, Carnauba Wax, Candelilla Wax, and Flavor Oil.
We currently offer four scents: Chai Tinted Lip Balm, Tangerine Delight, Pink Grapefruit and Peppermint Dream
All Natural / 100% Vegan / Cruelty-Free / Travel Friendly / Plastic-Free 

Weight: 0.5 oz / 15 g 
About Us
Mū-Mū – A harmonic blend of the Mandarin words "bath" and "tree." We promise products that are clean and natural.
Meet the Creator
Hi! I am Sasha.
After my baby was born, I saw a need for natural soaps for the whole family, including my little one with eczema. So, I began Mumu Bath with all skin types in mind! Our products are formulated with simple, natural ingredients gentle enough for our babies' delicate skin.
From our family to yours, we hope you enjoy our soaps as much as we do!
Our Mission
Empower your self-care rituals with Mumu Bath. We celebrate our Taiwanese roots, offering a touch of natural luxury with bath and body products inspired by the lush landscapes and traditions of Taiwan. Our mission is to provide top-quality, organic, all-natural products that transform daily routines into cherished moments.
Our Commitment
We are committed to crafting sustainable, eco-friendly products that are not only beneficial to your skin but also to our planet. At Mumu Bath, we believe in redefining self-care by making it a playful, fun, and luxurious experience. Our aim is to offer high-quality, organic solutions that cater to even the most sensitive skin, ensuring everyone can revel in the joy of pampering themselves.