Collection: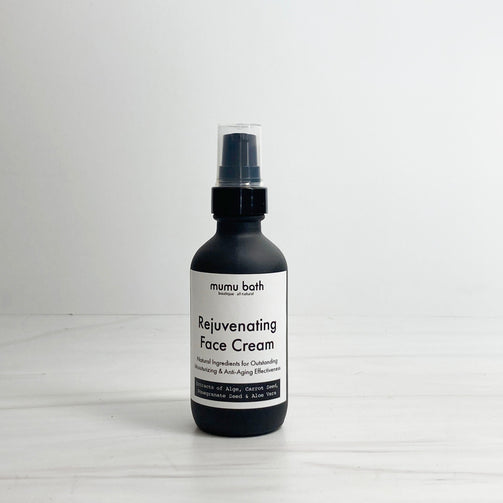 Collection:
Rejuvenating Face Cream
Rejuvenating Face Cream
Regular price

$45.00

Sale price

$38.00
Say goodbye to dull, tired skin and hello to a more youthful, radiant complexion with our Rejuvenating Youth Cream, a new skincare product that harnesses the power of nature to nourish and revitalize your skin. Infused with a blend of natural ingredients derived from herbs and plants, this cream delivers the ultimate in skin rejuvenation.
One of the key ingredients in our Rejuvenating Face Cream is Aloe Vera extract, known for its powerful moisturizing properties that soothe and hydrate the skin. Carrot seed extract, another ingredient in this cream, is rich in antioxidants and Vitamin A, which help to prevent and reduce the signs of aging.
Grape seed extract is also included in our formula for its ability to improve skin texture and elasticity, while Pomegranate seed extract works to protect the skin from damage caused by free radicals. Finally, algae extract helps to stimulate collagen production, which helps to firm and plump the skin.
Our Rejuvenating Youth Cream is also super lightweight and easily absorbed, making it perfect for daily use. It is 100% vegan, free of sulfates and parabens, and is cruelty-free, so you can feel good about using it on your skin.
Order yours today and experience the power of nature in your skincare routine!
Size: 2 oz / 60ml 
Sensitive skin friendly / Handmade / Vegan / Soy-Free / Paraben-Free / Cruelty - Free